sort by best latest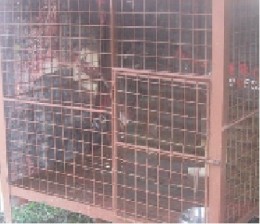 Sure, are you handy with tools? I made a huge cage for my two rotti's. You can purchase the screen at the local hardware store. You'll also need "rings" to hold the pieces together. You can make it as custom as you want! You can make a sleeping area insifde or a raised platform, whatever your dog(s) like! Now sit down and draw up your cage plan. Add up the dimensions to determine how much wire you'll need. Pick up the screen you want, heavy duty for big dogs, get your "rings" and a cripper for the rings. Cut your wire to your predetermined size. Lay them out and starting at one of the corners, take a ring and secure it on the corner with your crimper. If the cage is four feet tall plan on placing a ring about every 6 inches. Move to the next corner and crimp those rings and so on. After the frame is all crimped together move to the inside for your customization. The door can be cut out of any area you think would be convenient for you. Preferably a short side because the door will cause a weak area in the walls so a long wall with a door will tend to say and "say" to your dog, "Push here!". After you cut out the door, hinge it with your "rings".
You've just made a custom dog kennel for less the half the cost of a premade kennel. Good Job!
Awesome, it's for a Giant Flemish Rabbit actually she's in a 54 inch (XL) dog cage with hay on the floor of it now. I want to make sure she has lots of room, she's 15 lbs now and can grow up to 30.

---
Yes, I think there are larger ones - 60 inches at least.