sort by best latest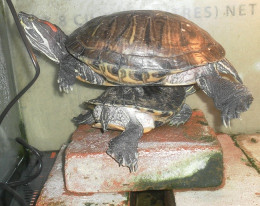 I love my terrapins (turtles), but they are very much a long term pet. I've had them 25 years already.
As a lady who owns exotic pets, I take offense at the idea that we are "always making problems" in concerns to exotics ;) Quite the contrary in my experiences; I have had more problems with men, who are terrified of my reptile room, than I ever have had with women. At least women seem generally curious, even if they are scared.
Currently I own snakes, tarantulas, and phasmids (leaf bugs). In the future I hope to attain both a skunk and a serval, as well as a smattering of other reptiles (uromastyx and savanna monitor in particular).
Yes, I would and have. I have owned several constrictors, my favorite being a 12 foot Burmese python around 15 years ago. He had gotten so big I had to sale it because at the time the Lady I was dating had become terrified of it. Although it was just a big baby. I got it when it was around 4 feet long and it just grewwwwww.
Ladies are always making problems about exotic animals. I'm lucky that my girlfriend likes my pets (except for roaches), but every time my mom or grandma comes to visit, they refuse to even enter the room. Thanks for answering!

---