sort by best latest
I have wondered this very thing. From what I have read, it has more to do with the motion of chewing than it does with the treats themselves.
Pets.webmd.com says, "Dogs that chew actively have less plaque build-up. And some types of dog dental treats and diets can reduce plaque by nearly 70%. How do they do this? Simply the mechanical action of chewing can make a difference. In one study, increasing the diameter of kibble by 50% led to a 42% reduction in tartar. In the same study, coating the products with a substance called polyphosphate further reduced tartar by 55%. It prevents plaque from turning into tartar by isolating calcium on teeth."
You can go to http://www.vohc.org/accepted_products.htm to find out which ones are the best.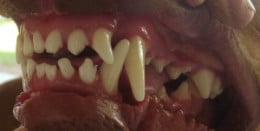 Let me answer your question with a question: would you tell your kids, "you dont have to brush your teeth tonight, have some of these cookies tonight and it will be just as good"? I hope not. Those cookies are only for people unwilling to brush their dogs teeth or feed their dog a raw diet that contains bones.
No, they do not work.
(I am attaching a photo of a middle aged dog on raw dog food. If this photo does not work-my ISP is horrible-you can see a hub on dental disease and raw dog food at my profile page.)
Thank you for your comment, I appreciate that. So the bones in a raw diet help achieve the same thing? So dogs that lived/live in the wild don't have the same struggle as housebound pets?

---