sort by best latest
Get a few of the inexpensive plastic bottles of acrylic paint and some plastic paint trays and paintbrushes. Tape down construction paper to a protected table and let the kids paint.
They can draw a picture first or paint freehand. Encourage them to tell you what they are painting and to add more to the painting. Acrylic paint cleans up easily, dries quickly, and seems to be more fun than watercolors.
There are a lot of things they can do. Using clear contact paper you can make all kinds of no-glue collages with tissue paper, wrapping paper, or nature items. You can seal the collage with another layer of contact paper. You can make animals out of cardboard egg cartons like a spider, caterpillar, or a turtle. Mine likes to color coffee filters with markers and then paint them with water to make a cool tie-dye effect. I hope that helps some.
My kids have both loved making contact paper collages as preschoolers. If you use celophane the finished collage can be stuck on the window for a stained glass effect.
You can also use this technique for the kids to make cards, cutting out a shape from the front - a heart or a Christmas tree for instance - cover it with contact on the front of the card, let them stick tissue paper, celophane or even things like feathers and leaves to the contact (so they will be sticking it on the inside of the card), then cover their collage over with another layer of contact.
take the children for a nature walk if you can. if not than you can take a nature walk alone a choose interesting rocks of all sizes making sure the rock is not of course to big or heavy. go to an arts and crafts store and purchase paint that is sold in small plastic bottles usually very inexpensive and offer a wide assortment of colors. but a few inexpensive paint brushes too. have newspaper handy to lay rocks on to paint. ladybugs make a wonderful and easy project. can be used as a paper weight or simply use as a decoration item. kids will love this craft.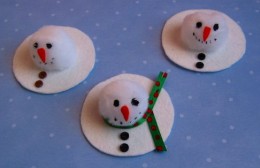 http://hubpages.com/art/Melting-Snowmen...
Hi there!
Here's a fun activity to do with pre-schoolers! This idea can usually be created independently however, pre-schoolers will need a little guidance.
Fun felt project at a low cost. Perfect for kids of all ages and can be completed independently! Great as an ornament, a decoration or a magnet! Adorable felt and pompom melting snowman!
Just click on the link above to get started!
Hope this helps!
Enjoy
Jennifer
My sister is so excited about making cool collages of our family picture. I already post it at out white board calendar. Click here: http://corkboardsheets.com
My preschooler loves pipe cleaners. We sit together and create each other jewelery, flowers, biuquets of flowers, animals and spiders. Paper plate masks are always fun. You can make ghosts by wadding kleenex so there is a ball at one end and the other left flowing with a piece of string tied under the ball (head) to keep it in place. We also like to come up with unusual snacks. I once had a group of little boys go wild over carrots sticks in a cone. Just a few ideas.