sort by best latest
I honestly feel that money is a poor way to measure artistic success. Some people do it for pleasure or stress relief and do not make a dime. Others are mediocre but market the beejeezus out of there art to make a fast buck. Still, others are quite accomplished AND make alot of money doing it.
The real way to measure success is in the progression of skill development over time. That, to me, is the most important part. It shows growth, willingness to try new things, and that the mind of the artist is an open canvas in its own right.
Thank you for your answer, jbosh1972. I think most people will agree with you that monetary return is a poor scale to measure success when it comes to artistic expression.

---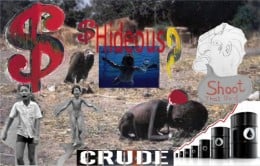 Acting on the world.
Actualizing.
As a visual artist, I measure my success first and foremost internally. My work has to fulfill some internal desire. Something I cannot speak because I have no words to describe what I am trying to talk about. Only that afterwards for an undetermined measure of time I feel something that tells me I am alive. None of these after feelings are unpleasing, all of them are satisfying, if not, then I have not reached success. I believe they are the feelings that are born from self-actualization. That come from the ability to add some thing, to the world from inside my mind. To make some thing exist from my efforts, acting on the world.
All other measures of success are secondary to this for me.
Thank you for answering my question, Gareth. Your measure of success as an artist probably speaks to the desire of all artists to resonate with others through our work. I love that you included (what I assume is) an example of your work. Fantastic

---