sort by best latest
There are a number of mediums that you can mix with oil paints. Some thin them down, others maintain the same thickness as the paint, but allow the paint to dry quicker. Liquin is a common and inexpensive medium that only thins the paint a little (you can mix in as much as you like to thin it more), but helps your paint be a bit smoother to paint with and also helps it dry. With liquin, I would suggest dabbing a little on your brush as you mix and use your paints.
This website lists other mediums you can use with oil paints: http://www.winsornewton.com/main.aspx?PageID=281. Good luck!
Hi there, Manthy, you've picked a challenging medium to relax with, but once you understand this very versatile medium, you will really enjoy it. Well, it really depends how thin and transparent you want the paint. You can actually thin oil paints with the oilt they are based in (walnut oil, linseed oil) or you can use a mixture of stand oil and mineral spirits or a mineral spirit substitute. I paint in walnut oil colors and just thin with walnut oil, the colors are still very vibrant, just not as thick. Thinning oil paints is a skill which takes some time to master, so just experiment with proportions. A few drops of the stand oil/mineral spirits mixture or a few drops of straight walnut oil mixed with your paint works beautifully, Just experiment and see what happens. ***Mix your paint with your choice of thinner on the palette not the canvas. If you are getting streaks on your canvas, you are using way too much thinner. Feel free to check out my hub on walnut oil paints. Good luck to you:)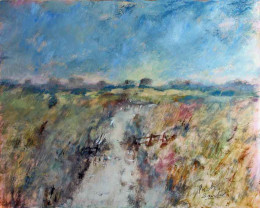 I've just started using oils, I use them sometimes straight out of the tube consistency, sometimes I thin with Zest-It odourless thinners sometimes I thin with a mixture 50/50 of stand linseed oil and Zest-It. I think yer pays yer money and takes yer choice. The painting with this post was done on a gesso panel and the paint thinned with odourless thinner.
Hi Mick - Thanks for the answer - I have bought some linseed oil, I love your painting, I think I will put a picture of mine on here when its finished, shouldn't be long.. Happy New Year & Happy Hubbing

---