sort by best latest
I like your drawing. It is creative to draw your own hand. I can do drawings with charcol. I can copy any object. But I can not draw faces. It is interesting how I have the impediment to copy the faces. I believe it has to do with an injury on my head . I took a class on drawing in college for six months and I got the first place on my abilities for drawing objets. Can you believe it.? It was intense. You know the saying. You need to practice to make it perfect.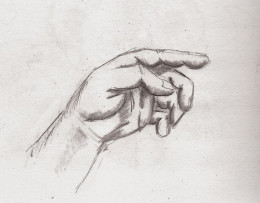 Nice Leroy, I love to sit and sketch while watching TV. I wish I was better at it, but I don't practice enough. This sketch is pencil. I draw left handed so drawing this was tedious, putting pencil down, checking out the hand and so forth. LOL
We should have a forum for posting our sketches!
I can't draw i wish i could draw but i do enjoy watching my sons draw and using there imagination and seeing what they come up with.
I love to draw but I tend to lack confidence in myself and my artist ability. Mostly I draw at home. Hands are one of my most difficult things personally. Your quite talented
:)
Yes. Most of the time I draw animals, but I also draw nature scenes.