sort by best latest
Looking for easy to make kid craft ideas that won't break the bank? Here are five budget-friendly craft ideas that use recycled products from around the house that both your kids and wallet will love!
keep reading →
|
21 comments
A lot depends on the age of the kids.
Some people make a distinction between "arts," which are more creative and more process-oriented, and "crafts," which may follow a prescribed formula or pattern and are more end-product-oriented. For example: go to Michael's or Hobby Lobby; purchase nylon thread and a whole bunch of beads; put them in front of the kids and just see what they do with them. That would be "art." OR, go to the same stores, purchase the same materials and also a pattern book with designs and instructions for the kids to follow - that would be "crafts."
But, aside from that - look around the house and see what they could do with "throwaways": things like styrofoam egg cartons; plastic mesh fruit baskets; cardboard paper towel cores, etc. Add some extras like glitter glue, ribbons, stickers, buttons or beads, paints, chenille sticks and googly eyes, and let them go to town.
Simple Tim's ideas are terrific, too!
I know of many kids in the family who love anything involving getting their hands dirty, that is painting, helping to make cookies, playing in the garden. Another good activity fo kids is paper craft,somthing like simple origami perhaps. I used to love to make paper boats and planes when I was little.I do the same with my nephews now.
Hope this anwers your question.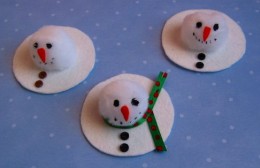 Hi there!
Here is a fun craft that kids love to make! Just follow the link to the hubpage for directions.
http://hubpages.com/art/Melting-Snowmen...
Fun felt project at a low cost. Perfect for kids of all ages and can be completed independently! Great as an ornament, a decoration or a magnet! Adorable felt and pompom melting snowman!
Hope this helps!
Enjoy!
Jennifer
I think to be able to give an accurate answer we need to know the age and gender of the children. Interests vary among age groups and genders. Otherewise here are somethings they may all like:
Oragami Paper Folding
Tie-dying
Paper-mache
Making friendship bracelets
Good luck!
Have them make a popsicle stick person. The materials you with need are:
Yarn of any color
Popsicle sticks (3 per child)
Felt or some kind of fabric
Glue
Scissors
Markers
You cut 2 out of 3 popsicle sticks in half with the scissors and glue them on to the whole popsicle stick. Then you cut some yarn the length you want the hair. You can always go back and cut the hair shorter. Then you glue the hair on. When you are done you draw the face and cut out some clothes however you like. Then you glue the clothes on and put the arms on after you glue the clothes on. You can always make accessories for the people. This project is good for kids 5+.
This is going to be something of a sideways answer to your question. My girls and I were listening to a book on tape, White Sands, Red Menace. The two girl main characters created a wall in their room where each contributed their expertise. One girl lived for a science, so her contributions were gadgets and whirligigs. The other girl collected images and paper and her contributions were collage pieces. Was this wall craft or art or a blending of the two? Making something means a lot to kids.
Ideas:
Rubber stamps-buy 'em or make 'em, but play with 'em. Ink.
Paper,glue, scissors, and of course tape, lots of tape.Modge Podge
Paper-There are some very neat papers sold in art stores. Kids like paper other than construction paper.
Boxes to put stuff in and boxes to cover with stuff. Paint, water color, basket supplies, fabric, wood, hammer and nails, founds stuff, make a mobile, or a small hand doll, pins, Paint the doll house in vibrant colors. Wire.