sort by best latest
Toyota RAV4 is one idea, but if you want something cheaper, a Nissan Versa hatchback is another option. You won't pay any premium for the brand name.
Along the same lines, a Mazda CX-9 is going to be cheap, reliable, and a little more comfortable.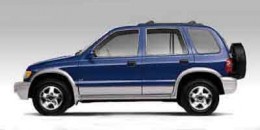 KIA Sportage - mine is 2000 bought used
Caveat: EMR relay gives you false engine codes, get @ dealer's for $13 = all problems gone.....
Kia's 2000 have multiple relay problems
A 1967 Chevrolet Impala. Beats anything else on the market today.