sort by best latest
The Sandman seems to have developed through oral folklore. One version of his story was recorded by Hans Christian Andersen in 1841. Andersen called the character Ole Lukøje and German speakers call him Der Sandmann. This character from European folklore might also be the inspiration for the Japanese legend of Baku.
Anyway, I don't know what his day job is, but by night the Sandman sprinkles magical sand into children's eyes to bring about sleepiness and good dreams. This is why kids might have icky crustiness in their eyes when they awake.
I don't know about you, but I always thought he sounded scary!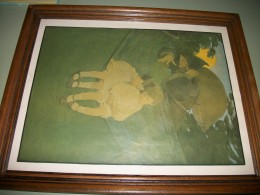 Here is a print of the sandman from 1916. The man who sold me the print said there was an evil connotation behind the original sandman stories. I always thought he was some type of fairy tale character who helped children fall asleep. Sorry it isn't a better picture, I can't even get it turn right!