sort by best latest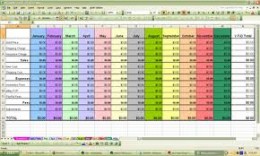 I know two ways to do this.
1 - Simply scan the Excel spread sheet and save as a JPEG.
2 - Open the Excel spread sheet and use screen capture and save as a JPEG.
If you don't know how to capture the screen, here is the link for complete instructions.
http://en.wikipedia.org/wiki/Screenshot
http://www.youtube.com/watch?v=gVowbwByV1M&fea...
Once you have the Excel spread sheet saved as a JPEG, go to the Hubpages and upload is as a photo. Your Excel spread sheet will look like the picture above. That will solve your problem. I hope you can use these instructions.
Save the excel spreadsheet as a csv file.
In your Hub, choose and add the Table capsule to your Hub.
Click Edit
Look for "Get Table data from: My Computer The Web Current Table"
Choose My Computer.
Browse to your file and upload it.
Done.
Thanks, y'all. I'll try those tips and see if it works. I knew there had to be a way but just couldn't figure it out.