sort by best latest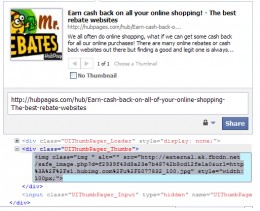 Well, If you are using Firefox, you can use FireBug (http://getfirebug.com/), an Add-on which helps to make changes to HTML code of the website we are browsing.
Then before clicking "share" button on face book, just start firebug, click on the existing picture, it will bring the firebug window showing the current image URL, replace it with your desired image URL.
It may be a difficult method and you should know something about HTML tags, however it works pretty good. I used to change my hub URL while sharing on facebook with the URL that contains my referral tracker token. (Usually facebook will remove referral URLs with actual URL while sharing on facebook.)
I know my answer is not good enough, hence I will make a hub about it :-)
Remove your profile pic?
I have noticed that on quite a few sites that it is the first picture that gets added and not necessarily the one you want :)
Once you have got what you want added to facebook then you can simply put back the pictures...It is a crappy way of how media sites go about things but I cannot think of another workaround :)