sort by best latest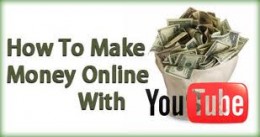 If you can make good videos then you can make a living uploading videos to Youtube. Sign up to become a Youtube partner.
As a YouTube partner, you share the revenue generated from your videos with Youtube when people watch your videos.
Sign up now to become a Youtube partner. Good luck
To earn through youtube one need to have meaningful videos which will help user to either gain knowledge i.e via tutorials or get videos to entertains like movies, songs, funny incident. Basically provides the things that people come and watch then you will gain impression on ads and the clicks on them.
Also there you you can make indirectly by selling the things with promotion on youtube videos. This is great way to earn attention.
1 answer hidden due to negative feedback. Show
1 answer hidden due to negative feedback. Hide