sort by best latest
Best Answer Mr Nice says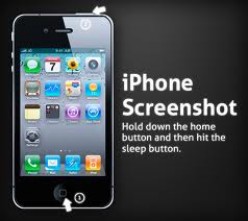 Please follow the step by step process to take a screen shot of anything you want on your iPhone.
Step 1
Open the Hubpage or any other website on your iPhone the one you want a screenshot.
Step 2
Press the "Home" and "Sleep" buttons simultaneously until you see the screen flash and hear a camera snap sound.
Step 3
Tap "Photos" on your iPhone's main screen and tap "Camera Roll." Tap your screenshot at the bottom of the list of photos to view the screen shot you just captured.
More Apple - iPhone 4S - Tips and Tricks
If you press the home and power button on top of the phone at the same time it should flash and capture whatever is on your screen.
Mr. Nice, thanks for the great help and the link to solve a lot more of my iPhone questions.