sort by best latest
Copy and paste your link in an email. You can create one email and BC them so that they don't know the others email addresses if you're concerned with their anonymity.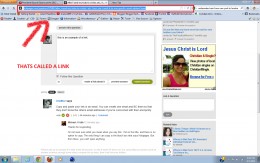 CHECK THE PICTURE I POSTED.. it shows you where a link is ..a link is a series of text followed by the website domain for example, the link of this page is: http://hubpages.com/question/179492/after-i-send-m...
go to the post you want to email
right click on the link, then click copy, then email that link by pasting it on your email program...