sort by best latest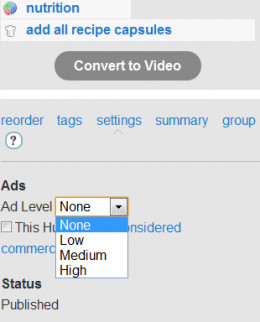 I've only ever changed the setting for this on one hub. The one I created about the new profile layout. I turned the ads to None, as it had no links leading out of Hubpages. The hub was also meant as a general guide for other users who have not moved to the new profile design.
Domenick, pretty much covered it, I'm just adding a screenshot for reference.
The setting for ads inside your account is in the section of your Hub Editor on the right side in the row with reorder, tags, SETTINGS, summary, group.
This setting adjust how many ads will appear in your article. Sometimes you may prefer to have less ads because you feel it interferes or takes away from your article. Other times you have to turn it off because although an article does not break HubPages rules it does walk the line for advertisers.
I wrote an article about the Sexiest Superheroes but used a lot of innuendo for the humor. It was fine for HubPages but they requested I disable my ad level settings because of their different advertisers rules.
Great answer! Your Sexiest Superheroes was fine for Hubpages yet they requested you disable your ad level? I'm a bit confused by that. Do you mean it was fine for general reading but not for making money?

---