sort by best latest
I've notice some increases although I'm new and my hubs are slowly starting to age and mature. Today, I'm getting a lot more views than i have been the rest of the week. I'm already up to about double the views today than I was yesterday, at this time.
I do believe Google made some type of update to its algorithm this week. You are lucky you have seen an increase in traffic. My traffic has dropped 75 percent this week. Bing and Yahoo still likes me, but not so much for Google. Let's face it, you've got to have Google on your side to get a lot of traffic.
This happens periodically, so I am assuming my rankings will go up again in a week or two. The same thing happened in the middle of December. I am happy to hear someone is doing well with the change. It is strange how Google's slight changes here and there can make or break some of us on Hubpages.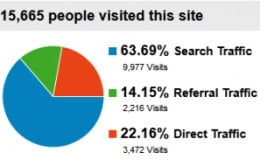 Yes, My search engine traffic is rising steadily every months. I started getting 500+ Google visits a day from my 50 hubs. My hubs are just 1 to 4 months old so still there is space for improvement.
2 of my hubs even getting 100+ Google visits a day. You will get search engine traffic on Hubpages if you spare time for keyword research and publish original, quality and search friendly Articles.
If you see my Google Analytics Traffic Report, 64% (10000) visits of total are from search engines (see the screenshot above). Means Google still loves HubPages but quality is needed.