sort by best latest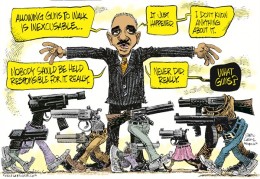 No surprise here.
Authorities found a .50 caliber high-powered rifle with a serial number that traced back to none other than Barack Obama, the U.S. Justice Department, and an ATF overseen by former attorney general Eric Holder's "Fast and Furious" gun-walking operation.
Sorry to have to be the bearer of bad news, but the guy responsible for El Chapo being in possession of such a dangerous weapon is the same person currently demonizing the NRA and looking for ways to frustrate the Second Amendment right of law-abiding Americans to keep and bear arms.
Dubbed "Fast and Furious," the failed sting operation Obama kept going, which started as "Operation Wide Receiver" in 2006 and was abandoned by Bush, involved federal agents allowing licensed firearms dealers in Phoenix-area shops to sell weapons to illegal straw buyers, hoping that after they were sold, authorities could track the arms to Mexican drug cartel leaders like El Chapo and arrest them.
Instead, the ATF lost track of most of what was sold.
The irony is that under the guise of wanting to track guns to Mexico, America's anti-gun evangelist put 2,000 weapons in the hands of criminal drug cartels. In turn, rather than the president's original goal being accomplished, violent chaos ensued when munitions were made available to some very bad people.
Of course the BDS people (Bush Derangement Syndrome) will try to blame this all on Bush. I could imagine when Holder and Obama dreamed this up they laughed saying well, if anything goes wrong we'll just blame BUSH, ha, ha, ha, ha.
And just like Hiliary lying to victim's families about the video,Holder's testimony drew rebuke from victim's kin. The Obama Administration, they are all liars without any conscience.
http://www.latimes.com/nation/politics/politicsnow...
These Democrats really need a new playbook, lying to victims' kin is not the way to go. LA times has the history below.
Do you honestly believe they had a plan to let these guns lead them to bad guys then they just forgot what they were doing? I will never believe it in a million years; they know just what they are doing; they just don't want morons who support them t

---