sort by best latest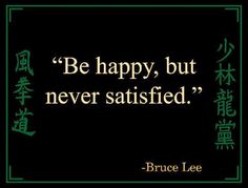 I believe enjoying (this moment) is the only time one is content or satisfied. Generally speaking living is about (desiring or wanting).
It's having something to "look forward to" that keeps depression at bay. Human beings are goal driven by nature. Once you accomplish one goal instinctively you look towards fulfilling other dreams.
Inspiration and motivation to do more or have more is living!
On some level when one is "completely satisfied" they're simply marking time until they take their last breath. No more goals....
These are the people who often ask: "Is this all there is?"
A life without dreams isn't living; only existing.
I think everyone has to figure that out for themselves. My main ingredient isn't likely to work for everyone else, or possibly nobody else, if that ingredient is narrowed down to something really specific.
One necessary element of the stew for most of us is liking yourself. Wherever your life's journey takes you- there you are. Not being able to get away from oneself really must get old without a little self-like. If one despises oneself how can one enjoy the journey at all?
Thanks for the question!
It sure seems to me to be love. Love yourself, love what you are doing, love in anticipation, love others in many ways. I am Christian so this sums it up for me: 1 John 4:8 Whoever does not love does not know God, because God is love. And even in times when I am not feeling all the God in my life. If there is love then things are content.
People, places, things and circumstances come and go. But with love we have all we need to be happy, and more we can be joy filled. If I live my life in love then there is no shame, no guilt, no remorse, no regrets and no loneliness or fear.
We go to 1 Corinthians 13 that most everyone has heard in some form: 4 Love is patient, love is kind. It does not envy, it does not boast, it is not proud. 5 It does not dishonor others, it is not self-seeking, it is not easily angered, it keeps no record of wrongs. 6 Love does not delight in evil but rejoices with the truth. 7 It always protects, always trusts, always hopes, always perseveres.
Living that way will for sure bring contentedness and joy.