sort by best latest
Margaret Atwood, for literature. I hope that she will win while still around. (Actually, that's redundant, come to think of it, since Nobels only go to living recipients.)
There aren't too many writers who (like her) have excelled as novelist, poet and critic--and who have largely defined their nation's cultural identity for a particular time in history.
(She did win the 2000 Booker Prize, though, for "The Blind Assassin." Not a bad consolation prize, should the Nobel never come through!)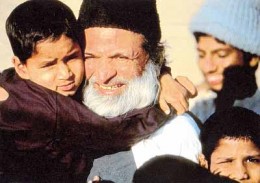 My answer is Abdul Sattar Edhi. He is a Pakistani philanthropist, founder and head of the Edhi Foundation, the world's largest ambulance help service and charity. Together with his wife, Bilquis Edhi, he received the 1986 Ramon Magsaysay Award for Public Service. He is also the recipient of the Lenin Peace Prize and the Balzan Prize. I respect this man because of outstanding efforts he has made not only in Pakistan but also else where without considering any political, religious or ethnic biasism. And while we look back in his early life he was just a labour when he started his practical life. This was his porsonal commitment and love for humanity which enable him to build a huge embulace service. And this all he has been doing from last about four decades.