sort by best latest
Ok. Well let's see. What usually causes earthquakes and tsunamis? Let me give you a hint, it's not man. Try researching plate tectonics. It is the movement of the plates under our feet that make up the crust of the earth. And they might get worse, then again they might not. We won't know and it is kind of difficult to tell what they will do next.
Thanks, Iburmaster. My fault - I know the scientific explanation. I should have worded my question differently, I suppose. I meant to get more subjective answers, theories, conspiricies etc. I like to believe that there is always something more. Rich

---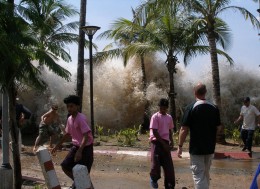 Hi Richie,
Awesome question man - you got my FULL attention when the notification came in.
Get a lot of these notifications, but this one is a Classic.
Hubpages software wouldn't process this Answer because it was too long; so here's the Hubpage they asked for insead : Enjoy :
http://hubpages.com/religion-philosophy/Earthquake...
Blessings...
† Luke 21 †
10 Then said he unto them, Nation shall rise against nation, and kingdom against kingdom:
11 And great earthquakes shall be in divers places, and famines, and pestilences; and fearful sights and great signs shall there be from heaven.
25 And there shall be signs in the sun, and in the moon, and in the stars; and upon the earth distress of nations, with perplexity; the sea and the waves roaring;
26 Men's hearts failing them for fear, and for looking after those things which are coming on the earth: for the powers of heaven shall be shaken.
It only seems like a lot, but the amount of earthquakes hasn't increased by much. Only the increase in human activity disrupted: more buildings + normal earthquake = more devastation, not more earthquakes.