sort by best latest
DK says
It's hard to stereotype over 60 million people in one small answer box but overall I think that because of the wealth of the country and the general tradition of being cultured and sophisticated creates a very pleasant, albeit snobby, kind of people.
The food is great, the country is great and the people are generally great.
But once again, 60 million people results in a very large variety and in the modern age, most European people are very similar to each other in the way of behaviour.
Personally I think this is a good thing.
Thank you,
Philanthropy :)
The first word that springs to mind is xenophobic. A number of people I know who have visited France come back saying how they felt disrespected by the French. Perhaps this is limited to Paris, as most of them went there. I don't know if this is true because I haven't been there myself.
Unfortunately, negative stereotypes travel well, so I've also heard that the French are snobby and arrogant. I live in the United Kingdom though, so I don't pay too much attention to stereotypes about the French, because the English tend to negative about them.
I also live in the UK and given that we are taught from a young age that France has been and still is the centre of culture I would disagree with the idea that we tend to give negative views about them. Think wines, cheeses, cuisine, fashion etc.?

---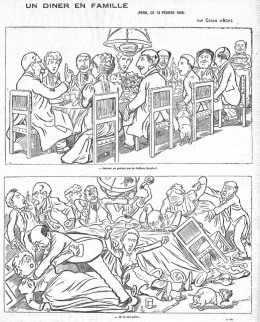 Look up Dreyfus Affair and you will get my opinion. Dreyfuss was convicted twice, then pardoned and finally reinstated. It showed that in France the seat of liberty and equality and brotherhood was just a bunch of words that meant nothing. Unwilling to admit a mistake in a illegal trial - lies upon more lies were heaped on this victim of cultural divide.\
Shows you how much of a lie is the phrase, "Unity through diversity"
Yes but surely the conviction of one man does not dictate your stereotype of over 60 million people?

---