sort by best latest
Best Answer Jessee R says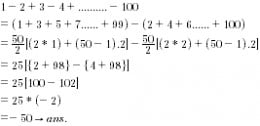 Following the basics of Arithmetic progression we can use the formula of summation and apply here as in the figure
We can then solve it in 5 simple arithmetic steps
The quick way to do it is:
Lets look at the average of consecutive odd integers which are all positive:
1+99=100/2=50 (this average works because: 1+99=100, 3+97=100, and 5+95=100......and so on These will all average to 50.
All the negative numbers are even. So the average of the even number are (-2 + -100)/2=-51
So the average times the number of numbers composing the average will give us the sum.
50(50) +50(-51) is the sum and this equals 50(50-51)= -50
We use to call them lollipops in school back in the 50s. They were assigned in the lower grades, but we started at 100, subtract 2, then add 1, subtract 2, add 1 and so on. It would pretty much kill a recess.