sort by best latest
The solution is to draw a triangle connecting the centers of each circle. Next using geometry you can solve of the height of the triangle. This height plus the radius of the smaller and larger circle is the total height of the stack.
The triangle is an isosceles triangle with a base of 40cm and sides of 29cm each. Cutting this triangle in half vertically forms two right triangles with the hypotenuse of 29cm and short side of 20cm. By Pythagorean theorem the long side would be 21cm. This is also the height of the isosceles triangle. Therefore the height of the stack is 21cm + 9cm +20cm = 50cm.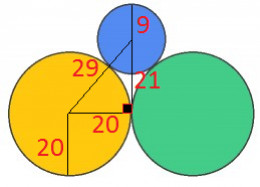 The diagram obviously shows a side view of the the stack of cylinders. Using 2-dimensional drawings to depict 3-dimensional objects is a well-established practice that dates back to cave man times. France has quite a number of ancient cave paintings if you're interested in learning more about the fascinating history of 2-dimensional art.
This is a 2D situation, as there is no height involved!