sort by best latest
Blue radius = r = 1; Rectangle height = h = 2d
d=2r
d=2(1)
d=2
h=2d
h=2(2)
h=4
Yellow Circle Diameter = D; Yellow Circle Radius = R
D=h
D=4
R=D/2
R=4/2
R=2
Rectangle width = w
w=2(r + b)
a(squared) + b(squared) = c(squared); a=r and c=R+r = 3
1(sqd) + b(sqd) = 3(sqd)
1+b(sqd) = 9
b(sqd) = 8
b = Sq root of 8
w = 2(1+sq rt 8) = 2+2(sq rt 8) = 7.65...
Dimensions are: 4 x 7.65...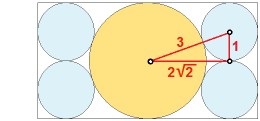 That was tricky, I almost said 4 by 8 without thinking about it too much. Then I looked carefully and realized that the center circle's width takes up more than half the width of the rectangle due to the way that the circles are tangent to one another.
If you connect the three points in the image above, you get a right triangle with a hypotenuse of 3 (radius of blue + yellow), a leg of length 1 (radius of blue), and another leg of 2*sqrt(2).
Therefore the height is 4, and the width is 2 + 4*sqrt(2) = approximately 7.657.