sort by best latest
Ever since I first saw Jesus nailed to a cross (in a Baptist church), I began to wonder why people 'worshiped' a criminal. Then when you really think about it, you get this little gem I found circulating on the Internet:
Christianity:
The fear it creates in the belief that a cosmic Jewish Zombie who was his own father can make you live forever if you symbolically eat his flesh and telepathically tell him you accept him as your master, so he can remove an evil force from your soul that is present in humanity because a rib-woman was convinced by a talking snake to eat from a magical tree."
And THAT is the most illogical, insane & inane observation about the dogma of Christianity I have ever encountered.
It would be funny if it weren't true.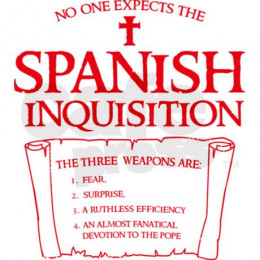 Well, it wasn't from an ordinary person. It was from the pope. He reckons those artists and writers at Charlie in France got what they deserved. He's actually on the side of the Muslim killers. Now I do find that illogical, inane and insane.