sort by best latest
Best Answer feenix says
Speaking as someone who is afflicted with such maladies as Post Traumatic Stress Disorder (PTSD), clinical depression and chronic anxiety, I know that laziness, inertia and depression are connected.
As an example, on those occasions when one or more of my mental illnesses causes me to lapse into the doldrums, I become lazy and lose my will to keep pushing forward. And it is only because of The Grace of God that I always manage to snap out of those episodes.
No, speaking about laziness, it is in a class by itself. It's a habit that people with no get up and go have. Other things like stubbornness may be associated with laziness. Sometimes though, lazy people have no justifiable motivation. To say that inertia and depression are connected to it is allowing extra excuses for it. All three are separate problems and maybe someone can have all three connected and if that be the case then that person has multiple problems that will be difficult to resolve.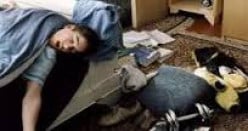 Whether we wish to admit or it, laziness, inertia, and depression are somewhat interrelated. A mentally healthy person wants to accomplish his/her goals and to make some type of contribution to his/her society and culture. H/she is proactive in terms of wanting to be engaged and involved in his/her immediate and outer environment. A mentally healthy person is independent and is loathe to depend upon anyone; h/she desires to be self-sufficient.
A person who is lazy and inert is not normal. H/she has some type of mental illness which causes him/her not to want to be engaged in life. H/she has some type of self-esteem issues. H/she probably have a very low sense of self. H/she feels that h/she is insignificant in some way. Because of this feeling of low self worth, h/she believes that whatever h/she does really matters for naught and feels that it is utterly futilitarian to make even the slightest effort.
Since h/she believes that h/she is insignificant, h/she adopts a negative consciousness, mindset, and/or psychology which eventually becomes a self-fulfilling prophecy. H/she stops taking care of his/her appearance, starts to become progressively worse in terms of attitude and outlook, and/or h/she even stops interacting with his/her immediate environment and the outer society.