sort by best latest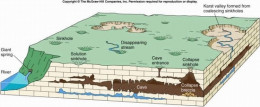 In the case of the recent Boston area "sink hole" I believe it was caused by a significant water main break; the resulting relatively high pressure water release into the underground soil erodes the soil and floods the surrounding area and can cause changes in ground profile.
However, true sink holes are a natural part of what is referred to as Karst topography. A significant part of Florida and the Yucatan Peninsula of Mexico is indeed Karst topography of relatively porous limestone under the mostly sandy soil above this unstable sub-strata. Indeed a significant probable condition for sinkholes (sandy soil over porous limestone). Something to keep in mind when purchasing property in the Sunshine State. As places in Florida become more urbanized the probability of sink holes opening up increases directly.
They can be caused by ruptured pipelines, natural faults in the area. Extremely dry seasons followed by unusually wet seasons, poor construction of the highway, where the proper seismic work was not done and a variety of other things, including people (and this does happen) digging under streets and installing drainage pipes to empty the ditches on their side of the road to the other side. You can put drainage pipes under roads. It is done all the time, but you have to build up the dirt on top of the pipes to withstand the traffic.