sort by best latest
While whis is possible I guess only to some extent because children from larger families will need to develop some skills faster than those from small families to be able to interact with busy adults and get what they need.
less competition and more love occupied by both parents, so smaller families kids are well pampered
Exactly peachy. SMALL FAMILIES=MORE LOVE, LESS COMPETITION. LARGE FAMILIES=LESS LOVE, MORE COMPETITION. Children in large families have to FIGHT for everything-parent,time,& resources. Hellish life if you ask me.

---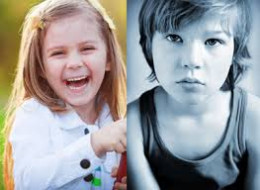 Mr. Sebastian, good answer. Children from small families grow up in mostly adult environments. This translates into the fact that they adopt and assume adult mannerism, speech, vocabulary, and behaviors early on. This interaction and interfacing w/adults result in children from small families being quite comfortable w/adults. It is quite common for parents of small families to take their children to adult gatherings where the latter freely mingle and interface w/adults. Because of exposure to adult subjects and arenas, children from small families are not afraid to talk to and communicate with adults. In fact, they feel MORE comfortable w/adults than they do w/other children whom they consider to be immature and noisome, if not downright annoying by those children's child-like behavior.
Children from large families, on the other hand, seldom interact w/adults. Their primary companions are other children. This association gives them a less mature slant on things. Dr. Zajonc in his study indicated that the more children there are per household, the less intellectually developed a child is. Children from large families have more childish, less adult, and more rudimentary mannerisms, speech, vocabulary, and behavior because they associate w/mostly children and seldom, if ever, w/ adults. Children from large families do not have the capacity to interact well with adults because in their immediate environment, their parents are mostly unavailable. Such children can be described as feral, having to raise, parent, and fend for themselves and each other. In large families, there is no such thing as a parent-child relationship. Children from large families do not know how to interact nor communicate comfortably w/adults as adults were scarce in their lives. They are only comfortable w/other children which puts them at a distinct disadvantage for when they have to communicate w/adults. They simply do not possess the wherewithal to communicate and interact w/adults as children from small families are quite adept at. They are sorely lacking in that skill, almost being timorous around adults while children from small families are totally at ease w/adults.