sort by best latest
Indoctrination starts as a child. Growing up in a Southern Baptist home, it seemed to be that all my family talked about was when my brother and I would be baptized and "saved". They were apparently terrified that if we died before this ritual dunking, that we would go straight to hell.
My family was always so concerned about being "born in sin" and that everyone was. There were no perfect people. Everyone that I knew was a "sinner" automatically and without question. The fact that even "baptized" people still sinned meant that they still had "grace" and they would still go to heaven, so it was ok to be a sinner, and in fact one couldn't escape that designation no matter how hard they tried. But as long as they were baptized and had accepted the Lord Jesus Christ as their "savior", it was ok.
So, the message that I got was that I could never be good enough having been automatically born into sin. All I could ever do was to say some "magic" words during a stupid water dunking and it would be ok to keep sinning knowing I would go to heaven in spite of being imperfect and flawed and full of sin.
In fact, the biggest hymm of all time has the line, "that saved a wretch, like me" in it. And that is how religionists are taught to see themselves, like a wretched, poor excuse for a human being. How sad that they think they should worship a god that cursed them forever for just being born.
Oh yea, the song is "Amazing Grace". And it is amazing that religionists firmly believe that a god would who would curse all humans to be "sinners" would then "save" them from himself?

---
I think religions that tell you you're born with sin and have to have it removed somehow during your lifetime instill this idea that, simply by being born, through no choice of your own, you are tainted, a broken thing needing to be fixed. This can definitely have a serious psychological impact, especially on children, and it seems this is just one of the ways that religion can seriously damage a person's self-worth and personal feelings.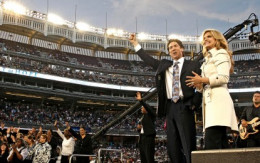 Being told over and over again that you're not worthy. You're nothing without God, a born sinner who is powerless.
Not only must you drop to your knees and bow down to God asking him for grace everyday you must also find a "church home", join the flock, and have a "middleman" aka minister interpret the bible for you!
One group espouses being humble and content with the crumbs in life because your treasures await you in the afterlife. The other group proclaims that being God's child means you're meant to be rich and prosperous on earth as it is in heaven. (Name it and claim it!)
Given a choice between listening to a beat down "end of days fire and brimstone sermon each week versus God wants you to have the best, be healthy, rich, and happy...etc I'd rather listen to the latter!:)
If we look at the bible as a collection of fables/ parables and philosophy as opposed to historical facts and theology. There are some thought provoking statements even for a layman.
Luke 17:21
"Neither shall they say, Lo here! or, lo there! for, behold, the kingdom of God is (within you)."
Psalm 82:6
I have said, Ye are gods; and all of you are children of the most High.
John 14:12
"Verily, verily, I say unto you, He that believeth on me, the works that I do shall he do also; and greater works than these shall he do...."
For some people God is the adult version of Santa Clause and for others it's recognizing a spiritual connection within and around us as we evolve through this process called life.
I say: Live and let live!:)
Yes, I believe there is a very strong correlation between 'god' and Santa! In fact, the two are barely distinguishable. I think the old "gods" evolved into the Santa figure because of the evolution of the minds of mankind.

---