sort by best latest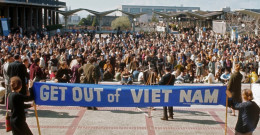 1950's - (An abundance of naïve innocence)
Gender roles were well defined
People trusted their government
Life seemed predictable
Americans believed they were the undisputed greatest country.
1960's - (The loss of innocence and civil unrest)
Vietnam protest marches - Don't trust anyone over 30!
Civil Rights marches
Cuban Missile Crisis (1962)
Assassinations of JFK (1963), MLK, RFK, Malcom X
The Hippie/Free Love Movement/Cohabitation/the pill
The drug counter culture/Government & cops called pigs
Our future seemed volatile and unpredictable.
As for the "good" what is most remembered is the music
(The Beatles, Dylan, The Stones, Beach Boys, Motown, Aretha, Hendrix, Woodstock, James Brown...etc)
Those who say that were children in the 1950s and 1960s and didn't know it as adults.