sort by best latest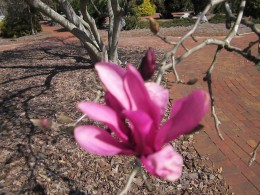 Are those ash you have there? Yes we have blooms everywhere and I hope to take tomorrow and capture so many. The Magnolia Betty is the beauty here right now I think. Although we have the Camellia in pale pink and dark red they have been peeking through since before Christmas so I really have my eye on the Betty for some great shots. Got just a couple a week ago but they were not open as full.
We have daffodils blooming and crocuses coming out here on the eastern shore of MD
Bluebells are way earlier than last year!