sort by best latest
yes,since I live in the Northern hemisphere I can tell you that all the trees grow moss on the north side of their trunks...probably due to southern exposure to the sunlight on their south side...
There are no trees , it's all desert! :)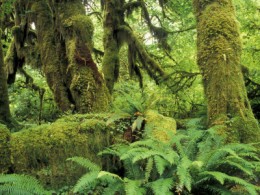 I went outside. I live in the northern hemisphere in an area that receives upwards of 70 inches of rain a year. Moss grows around the circumference of all variety of trees indigenous to the region. Moss thrives in damp, low light conditions in either the cold of the northern hemisphere or the tropical forests at the equator. Direct sunlight will inhibit the growth of moss, hence whichever side tree gets direct sunlight moss will not grow, or moss will grow sparsely.My hunch is that in equatorial rain forests moss will ring trees.