sort by best latest
Can't say I've seen enough to be a good critic, but I've always liked "Dunston Checks In" about an orangutan in a NYC hotel that is having trouble with a jewel thief.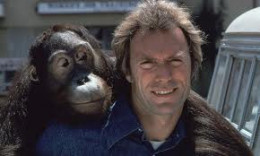 Clint Eastwood and Clyde the Orangutan. "Every which way but loose" 1978
Over the last 20 years we have had so many animated animted films thrown at us that this is a really difficult question to answer.
Films like Monsters Inc, Finding Nemo, WALL E and Cars have given us fanatastic non human characters that we have been able to associate with and grow to love. But of all of these type of film I don't think you can beat Toy Story. If you take the 3 films (I know that's not quite what you asked), I defy anyone not to be able to place themselves in the situations that the toys do. Their feelings of love, happiness, friendship, loss and fear are beautifully delivered in some wonderfully written stories. If I had to pick one as the top, it would be the first, just because it set such a high bench mark for all films of this genre to attain.