sort by best latest
She can balance many things; a good job, wife, and mother of many. However, a tigeress cannot change her colors. She is known to be a bit like her father who is not the best of idols. So partially yes, and parcially no.
As with every person we decide to have as a role model, there are parts of everyone's personality and character that are very admirable. Even so, no one is perfect and there is always a downside to the individual.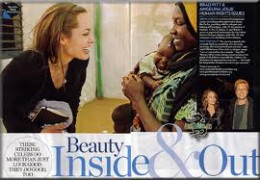 Hi Pretty,
You know what pretty means right. :)
When it comes to beauty, yes she is a very beautiful woman but I don't believe she is the only beautiful woman in the world. Her beauty is publicized way too much because she is a famous actress.
~ Everything has beauty, but not everyone sees it. ~Confucius
There are so many beautiful women around the world and are unknown because they are not part of Hollywood.
However, I admit and admire Angelina Jolie's beauty because she is not only beautiful; she also has a beautiful and very kind heart too. Therefore we cannot compare Angelina Jolie's beauty with anyone.
~ The beauty of a woman is not in the clothes she wears, the figure that she carries or the way she combs her hair. ~ Audrey Hepburn
Not every beautiful actress or singer has a beautiful heart like Angelina Jolie. Because of this I believe Angelia Jolie is really one of the beautiful women in the world.
If you look at her life now, then she may well be a good role model. Her start, however, was pretty rough. Kids need to look closer to home for role models.