sort by best latest
I think I look like Pocahontas, but growing up most people say I look like Mulan, Mulan's mother, Mulan's grandmother, Mulan's boyfriend. I've also been told I look like Jasmine.
Basically, every Asian cartoon character you can think of.
Some say I even resemble Pikachu.
Popeye the Sailor man (toot-toot!) Whaddya think? Mind you the wife doesn't look much like Olive Oyl, and none of our brood ever looked like 'Sweetie-pie'. (I sometimes wonder if the milkman had a hand in delivering them).
If my son put on some weight and whiskers he could look like Brutus (Hmph)!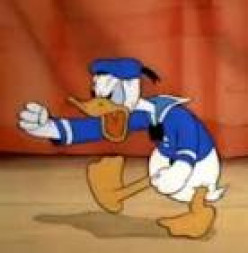 My all time favorite character is Donald Duck. He is moody, fiesty and so funny.