sort by best latest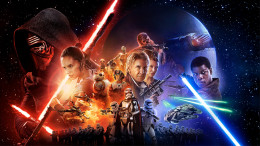 I saw it yesterday at 9AM on a IMAX screen in 3D.
I really enjoyed it and I think even if someone has never seen the other ones they would probably enjoy it.
However if a person has seen the first trilogy they're more than likely to pick up on subtle things that harken back to the original storyline.
It has a good chance of topping Avatar for biggest grossing movie of all time by the end of it's run. It was a fun great "popcorn movie"
The next one comes out the summer of 2017.
Hi Jackie,
I haven't seen it yet either. However, over Christmas with family who have seen it, they have said it is beyond great! So, makes me wonder and want to see it I like watching Star Trek better than Star Wars, but I did like them both. So, I guess hubby and I will wait until it comes out on Netflix or Amazon LOL. We have gotten so cheap here of late. Well, we are really spoiled as we love to watch movies from our comfortable home and not pay $10.00 for a bag of popcorn LOL.
Happy New Year, sweetie!
That is true and the tickets are 9 or 10 bucks too so it is a lot of expense & watching from home really is much more fun and comfortable & nowadays maybe a lot safer!

Happy New Year!

---