sort by best latest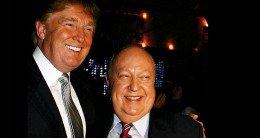 I remember when Trump first announced he was running. There were many Republicans who stated he was running to help Hillary win the election! Conspiracy theorists believed he was really a liberal helping his friends the Clintons retake the white house. Today many of them now proclaim the election is rigged because he's down in the polls!
Whether Trump wins or loses the election he will be alright financially.
It wouldn't be a shock if Trump and Roger Ailes (former Fox News exec) launched a new network and cried all the way to the bank.
He's got enough followers to start a new party or sell them books and other items for which he can cash in on. Making money is his priority.
ONLY One Critically Important Question ~ Do our "Marlevously TALENTED Technicians" have the "Essential Capability & Explicit Permission" to "SET Up" a TELEVISION Network to be BROADCAST from PRISON or Moscow Russia ??
I cannot believe he invested this much time and effort, walked away from a profitable TV show and took real estate investment hits in order to run for President and not be serious about it.