sort by best latest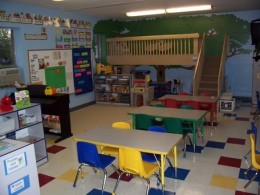 This is an excellent question and one I have contemplated for sometime. I would think a"head start" approach may focus on instructing critical thinking skills, auditory discrimination, perhaps phonemes, letters, maybe reading acquisition, listening and attention-focusing. There are others one may consider, perhaps reading to them quite a bunch, motor skills training (i.e. soccer, baseball/stickball, Ice skating & Ice hockey). Maybe emulating what his/her classroom will look like in a room in your house so the transition is not such a quantum leap...
I think teaching the basics of learning to write the alphabet, spell a few simple words, and count to twenty should be sufficient before a child starts kindergarten. It makes me angry that we pay so much in the way of taxes for our school systems and they require kids to know so much more before they start teaching them. I consider myself an intelligent person and there was no Head Start when I was a kid. And those programs and sports aren't needed for kids to learn how to interact with other kids and learn fair play. Unless there are no other kids living near our own, they should be sent out to play instead of being allowed to sit inside playing on a computer or watching TV. We do need to teach our children the basics, help them with homework, and guide them in proper moral behavior, but the schools we pay for should be responsible for teaching them the required subjects.
You should never stop teaching your children. You are their main teacher. They learn every day even if you don't realize you are teaching. They learn by watching you. In addition, if your child feels you think their education is important they will think it is important. Especially in the early years, once your child enters school, you still need to work with them if you want them to be successful. 20 minutes a day can make a big difference. Reading to them can make a big difference. You have to be involved in their education if you want them to be successful. No parent is ever "done", there is always more you can impart to them.