sort by best latest
The average cost of raising a child born in 2013 up until age 18 "Cost of Raising A Child" report from the U.S. Department of Agriculture for a middle-income family in the U.S. is approximately $304,480. (adjusted for projected inflation) - Dated August 18, 2014.
This assumes a child is born without any health issues or deformities requiring any "special needs".
That should give plenty of people pause to determine whether or not they want to make that kind of sacrifice. There are also no guarantees that a child will be leaving "the nest" at age 18. Oftentimes the "real expenses" start accumulating during the college years and beyond!
A lot of grandparents are the primary parent as well. LOL!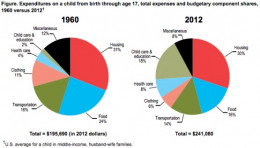 It varies significantly based on particular circumstances.
I can say for a fact my parents didnt spent 304,000 on me even including college (currently enrolled). That projection from the US Government Department of Something with Money and Kids comes up with that estimate based on figures such as $7 usd a meal and buying new clothes every month and a pair of shoes once every 6 months and other "bloatware". I would personally say, you can raise any child who is healthy, for about $50,000 to age 18. Thats saying you live smart, make cheap but healthy meals, buy clothing that lasts, and dont make bad choices on spending the money. A big waste of money is toys between ages 7 to 13. Little kids need handheld toys to learn, 7-13 year olds just need sports equipment and a tablet pc. I won't go into more detail since people know well enough, but ill say I had the same 2 pairs of shoes for the last 5 years, one beat up working pair I wear daily and 1 clean classy pair I wear out to eat and to events.
~thranax~
I think your numbers are way off. Have you checked the price of diapers and baby food lately? Medical care? It may not be 304,000 dollars, but it's much more than $50,000.

---