sort by best latest
I dislike being stereotyped and I hope I don't stereotype people. I set my mind to be open and meet people through their personalities and actions. However because we are human and have a mind that critics, making a categorization/judgment in our mind is a quicker step to understanding someone or something.
People and life are not so straightforward and easy to explain. People and life get complicated. Outer looks or experiences do not always reflect the inner beauty of the person-for whatever reason. I think if each person follows what is aspirational, inspirational or beautiful to them and follow that, then they can decide with whom to associate with or not with.
I am aware of people directly and indirectly of who look good, sound good, have all the monetary goods and connections and they are constructive citizens as well as those that are white collar criminals. And there are people who I know directly and indirectly that you could caste negative aspersions about because of their outer demeanor or lack of resources but in their plain speaking ways they can have hearts of gold as well as be pieces of rough charcoal of dubious intent. It's a mixed bag wherever you go.
No, because such social isolation is why the elites in the US and Europe are becoming hated in the West.
They attend the same elite private schools or public schools in posh districts, shop at different stores, eat at different restaurants, watch different shows.
And then the elite holds totally different views than the rest of society and denigrates them for holding different views. The liberal elite making fun of poor whites, calling nationalism evil for Americans but pride for everyone else, bashing skilled labor ...
I intentionally have my children play with families that have very different views, whether a Buddhist family or homeschooling family of 7 with whom we've been in the same youth groups. This is the true diversity that they need to learn to work with, diversity of ideas, not demographic diversity.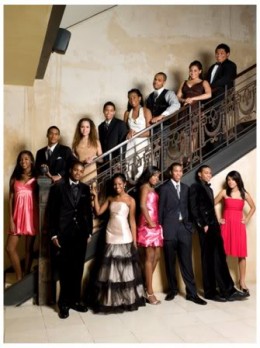 Many solidly middle, upper middle, & especially upper class parents want their children to associate only w/others of a similar & or higher level socioeconomic class. They feel that those of a similar socioeconomic class have the education, career, achievement & related values that their children were raised with. They contend that if their children associate w/those of a lower socioeconomic class, the latter oftentimes DON'T have the same values. They even go further to assert that those in a lower socioeconomic class will have values that are diametrically antithetical to the values their children were raised with.
It is smart for children who are solidly middle, upper middle, & upper class to have friends & interactions w/others of a similar, even higher socioeconomic class because there is a commonality of values, goals, & aspirations. Others of the same or higher class oftentimes reinforce familial goals. There are also more networking opportunities, especially in terms of careers when they associate & befriend those of the same &/or higher socioeconomic class. It would be foolish for children who are solidly middle, upper middle, & upper class to associate & befriend those of a lower socioeconomic class for the latter have absolutely nothing positive to offer them.