sort by best latest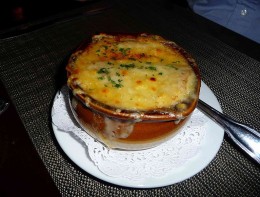 You can serve mozzarella or provolone on some delicious French Onion Soup.
Start out with caramelized onions by slicing two large onions into very thin slices with a 10-12 ounce can chicken broth and 3/4 cup of real butter in a slow cooker on high until golden brown and soft.
The next day add the below ingredients into a large stock pot and get cooking.
1. The Caramelized Onions and Juices.
2. One 10 1/2 Ounce can Beef Consomme.
3. One 10 1/2 Ounce Can Beef Broth.
4. One Teaspoon Dried Thyme.
5. One Fourth Cup White Wine.
6. Six Cups Large Garlic Croutons.
7. Shredded Mozzarella or Provolone Cheese.
You will want to put the first five ingredients into a slow cooker and cook on high about four hours.
Now place six oven proof bowls onto a baking sheet and on the top of each bowl add croutons first and then cover with shredded cheese. Place into a 350 degree pre heated oven and cook until the cheese is melted. Serve at once like in the photo. I guarantee you people will love this delicious French Onion Soup with cheese. The recipe is easy to make and delicious to eat.
You can do both.
Cheese is fine the way it is and it can be used in cooking too.
Pizza anyone?
depends what cheese. if its motserella you probly want it on pizza or nocho's, really good melting cheese. or parmasin for spagetti bowl. or for an afternoon snack you might enjoy a bree, double bree (as a softer cheese), camenbert, armond and apricot cheese with french onion dip on some sort of biscut like jats or water crackers or salada. or maybe you may like your cheese on a sandwich, harvarti with fresh salads on brown/multigrain/wholemeal bread or a good old toasty cheese sandwich with my personal fav, bega or craft tasty cheese, say with mustard and tomatoe and maybe some ham. have i enlightened you with the taste of cheese?