sort by best latest
Maybe you can use "Self rising Flour" for your thin pizza crust. I think it will come out etible and flaky.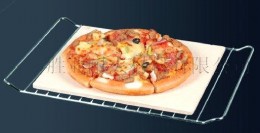 pizza stone or oven stone is what makes the thin crust cook correctly. - Pretty fancy stuff - I was thinking of going cheap and get a flat shale rock tile from the hardware store
It is possible! There are a few easy ways to do this. A really quick and easy solution is to use a flour tortilla. They crisp up nicely in the oven. Alternately, you cane make your own dough and roll it out on a pizza stone, or regular pan if you don't have a stone. Also, most pizza places will sell you some of their dough and you can bring it home and make your own pies the way you like.
Yhe key to making the dough thin and crisp is stretching and stretching the dough. You don't have to flip in like the pizza guys do, but stretching rather than rolling is key. Don't worry how it looks at first, just get it thin the way you like. If it rips, just patch it with another piece of dough.
Good Luck!