sort by best latest
great question
Cookies are like people versatile different, unique and can be funny.
Some would be dropped cookies, sliced firm dough cookies, molded cookies, bar cookies,spritz and piped cookies to name a few some of my favorite are my wife's special recipe syrup cookies, a recipe handed down from her granny and her "shut yo mouth gingerbread cookies" and one more her snicker doodle dandies. I don't cook them I'm the house expert on consumption...have fun with good cookies!!!!!!!!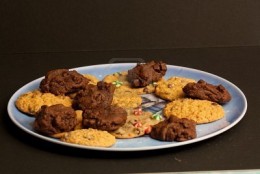 The various types of cookies are.
Bar Cookies
Here you use soft dough and the batter is placed in a shallow pan and cut into small bars after baking.
Drop Cookies
These are made by dropping small amounts of dough onto a cookie sheet.
Hand Formed Cookies
You make these by forming cookie into balls or other shapes by hand.
Pressed Cookies
You make these with a cookie press or you squeeze your cookie dough out through a tip to make your cookies how you want them.
Refrigerator Cookies
You make your cookie dough into logs and then you refrigerate until firm. You then slice off your cookies and bake.,
Rolled Cookies
Your cookie dough is rolled out and made into thin layers. You then use cookie cutters to cut the cookies out into the shapes you want them in.
And there you have the various types of cookies. I hope there are cookies in your future real soon.
choc chip, snickerdoodles, raisin oatmel...oh sorry, wrong answer :)