sort by best latest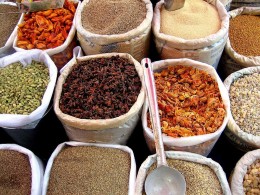 1. Chinese Spices
2. Five Spice Powder.
3. Star Anise.
4. Ginger.
5. Hot Mustard.
6. Sichuan Pepper
7. Cayenne Pepper.
8. Asian Basil.
9. Indonesian Bay Leaf.
10. Lemon Basil.
Those are 10 of the most popular spices used in Chinese Cooking.
There is also soy sauce, sesame oil, sesames,and housian sauce, and MSG.