sort by best latest
No. Eggs are naturally sealed to resist bacteria so they will stay good for at least a month or two at room temperature before bacteria penetrates the shell. Refrigeration is unneccessary unless you plan to have the eggs sitting around for several months. Since I eat mine within a week or two it's never a problem. For example, when I lived in England eggs were not even kept in the refrigerated section of the grocery store.
If you don't believe me then try it yourself, you'll see. When eggs go bad it's pretty obvious so no need to worry about poisoning yourself.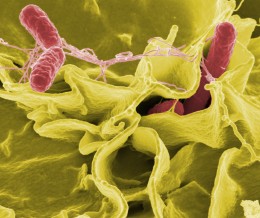 According to the USDA, you should refrigerate any egg which was already refrigerated:
http://www.fsis.usda.gov/Factsheets/Focus_On_Shell...
From reading this page it looks like there are a few things to keep in mind:
1) the biggest health risk from eggs is Salmonella.
2) temperature fluctuations can lead to bacteria infecting the egg.
So their rule of thumb seems to be that if you buy a refrigerated egg, then you should keep it refrigerated.
While it might be true that bad eggs float, smell and have other "obvious" problems, this article makes it sounds like Salmonella (again, the biggest health risk from eggs) might not present such obvious indications. But I'm not sure on that.
Nonetheless, I am inclined to feel that that Derek's answer might not in fact be the "best answer" to this question. Perhaps we should indeed provide a mechanism to allow question askers to change the best answer as time goes on.
Additionally, this page has a lot of good information and history about Salmonella:
http://www.medicinenet.com/salmonella/article.htm
And this page has some a brief overview of what the infection does to you:
1 answer hidden due to negative feedback. Show
1 answer hidden due to negative feedback. Hide