sort by best latest
Best Answer Brenda says
2 c. Flour
1 c sugar
1 tsp salt
2 tsp baking powder
1/2 c vegetable oil
1 egg
1/2 cup milk
2 c fresh blueberries
2 tsp ground cinnamon
1 tsp nutmeg
2 tsp vanilla
Preheat oven to 375
Grease muffin tin
In a large bowl mix together the flour, baking soda, baking powder, salt, cinnamon, and nutmeg and set aside.
In another large bowl, whisk together the sugar, oil, egg, vanilla and milk
Add the dry ingredients, to the egg mix.
Add blueberries to mix and stir
add the mix to greased muffin pans, Bake for 25-30 minutes.
Yes... Yes I do. Its a secret though. The secret is that it really isn't a muffin. Its pancake with vanilla and half smooshed half whole blueberries.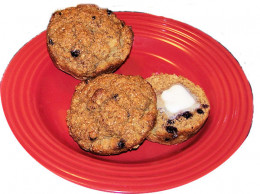 I have one that involves a prepared box mix with added ingredients. But it is delicious!