sort by best latest
They've been around for years, and there isn't a viable difference between the Americas ( which consume large amounts of GM foods) and Europe. The only time GM finds to be a problem, odd enough, seems to be small, poorly-controlled experiments denounced by just about every respectable scientist who read the extremely unclear paper that, hmm, OMITTED their DATA when dealing with a species of rats BRED To frequently HAVE TUMORS because of their link to cancer research.
So, no. Bad science really angers me, and if GM foods caused cancer, we'd be dead.
Im sorry you haven't been convinced by countless studies, not just the mainstream ones.

Maybe perform your own study and then show us your results until then I would rather not use my child as a test rat...

Have fun though..

---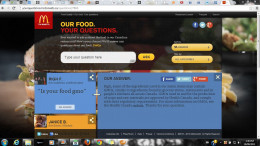 As a writer for the HealthCanada Hubpages Page, I often get asked alot about GMO's. When Mcdonalds asked users to submit questions, i couldn't help but heed the call.
I asked mcdonalds if their foods contain any GMO's and as in the pic, you can see clearly that they proudly admit they do.
In one of our hubs: http://hubpages.com/health/GMO-Food-Link-to-Tumors...
You can see that the use of GMO's are not only dangerous, but deadly!
With this evidence I'd say, They are not a viable food source, but hey at least they have that seed vault in alaska right?
-R. F. K.
(Larger Image: i1156.photobucket.com/albums/p562/RighKnight/Capture.jpg)