sort by best latest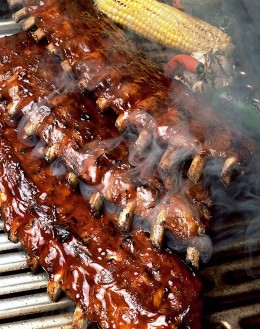 Here is a simple way to do it.
Start off with a tin foil pan and place two racks of meaty pork ribs in the pan and pour two 12 ounce bottles of beer over the ribs. Add a cup of apple cider vinegar and a half cup of butter to the pan and wrap the pan tightly with tinfoil.
Place the pan in a preheated 350 degree oven and cook for 2 hours.
Now you can take the ribs carefully out of the pan and place them on the charcoal grill.
In the last 15 minutes spread your ribs with the below homemade BBQ sauce and enjoy.
Homemade BBQ Sauce
1. Two Cups Ketchup.
2. Two Cups Brown Sugar.
3. Two Cups Apple Cider Vinegar
Heat your sauce over low heat mixing it together well and brush it on your ribs in the last 15 minutes of cooking time so the sauce does not burn. Serve the extra sauce on the side and you will have just created some of the best Beer cooked Barbecue Ribs you will ever eat. I hope there are some of these ribs in your future real soon.
I dont know about that, but try this. marinate your ribs in the beer over nite. when yer ready to cook em. save the beer from the marinade. mix some hot sauce, and brown sugar into it, maybe some garlic as well. place the ribs in one of those tinfoil baking dishes. sprinkle the ribs with salt and pepper. then add the mixture till the ribbs are just about covered, or enuff that you wont cook it all off. cover and cook. Or you could just add beer and butter and slow cook it.