sort by best latest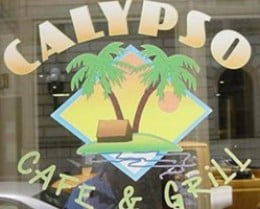 I think this may be more what your looking for
1. One Half Cup Fine Chopped Onion.
2. One Tablespoon Olive Oil.
3. One Cup Dry White Wine.
4. One Fourth Cup Honey.
5. One Fourth Cup Lime Juice.
6. Two Teaspoons Yellow Mustard.
7. One Teaspoon Ground Sea Salt.
8. One Teaspoon Ground Black Pepper.
9. One Tablespoon Cornstarch mixed with One Tablespoon Water.
Mix ingredients 1 - 8 in a small stock pot and bring to a boil. Heat stirring until smooth. Now pour into a blender and pour in your cornstarch water. Blend until very smooth and all your onions are mixed into the sauce. You will now have a sauce that is tart and light. I bet you will enjoy it.
Are you sure it is not Honey-Ginger sauce, because I have been to Calypso's in Nashville and I think I've replicated the sauce. Taste it for yourself and let me know if I'm close to the real thing.